via instagram.com/witcheryfashion
When I saw Geneva Vanderzeil of a pair and a spare in the above dress from Witchery I was smitten with how clean and fresh a white dress can look. White for me is debatable for a few reasons: 1) having a toddler with grubby hands; 2) having an infant who still hasn't quite got swallowing food down pat; 3) white can be very unforgiving (ie adds inches to the waistline).
Nevertheless, it would be amiss to disregard the white dress as part of my summer wardrobe so here are some ideas on how I'd wear it (keeping it pristine white, however, is another blog post in itself).

via guest of a guest
1. Wear it with sneakers, wedge heel optional. I like this Country road tie neck dress with these Axel Arigato sneakers to keep the look all white.

via jennifer in the sky with diamonds
via asos
2. Keep the look simple. A dress free of embellishments makes for a clean look and ensures the toddler and infant wouldn't be poking at the dress to inspect the details closely. This Asos dress just looks so comfy and easy to dress up if need be.

via secretly fancy
via surfstitch
3. Wear your husband's white shirt. Or a reasonably loose-fitting white shirt dress – it hides a multitude of sins and is great for nursing. Keep away from your partner's gear with this Vanishing Elephant dress.

via the fashion tag
via witchery
4. Keep it loose. Summer equates to sweat and sweat equates to sweat marks and sweat marks equates to unnecessary slaving in the laundry. And you can partake in the Christmas feast without having to undo the top button of your shorts. This Witchery drape dress can be worn loose or tied at the waist for shape.

via popsugar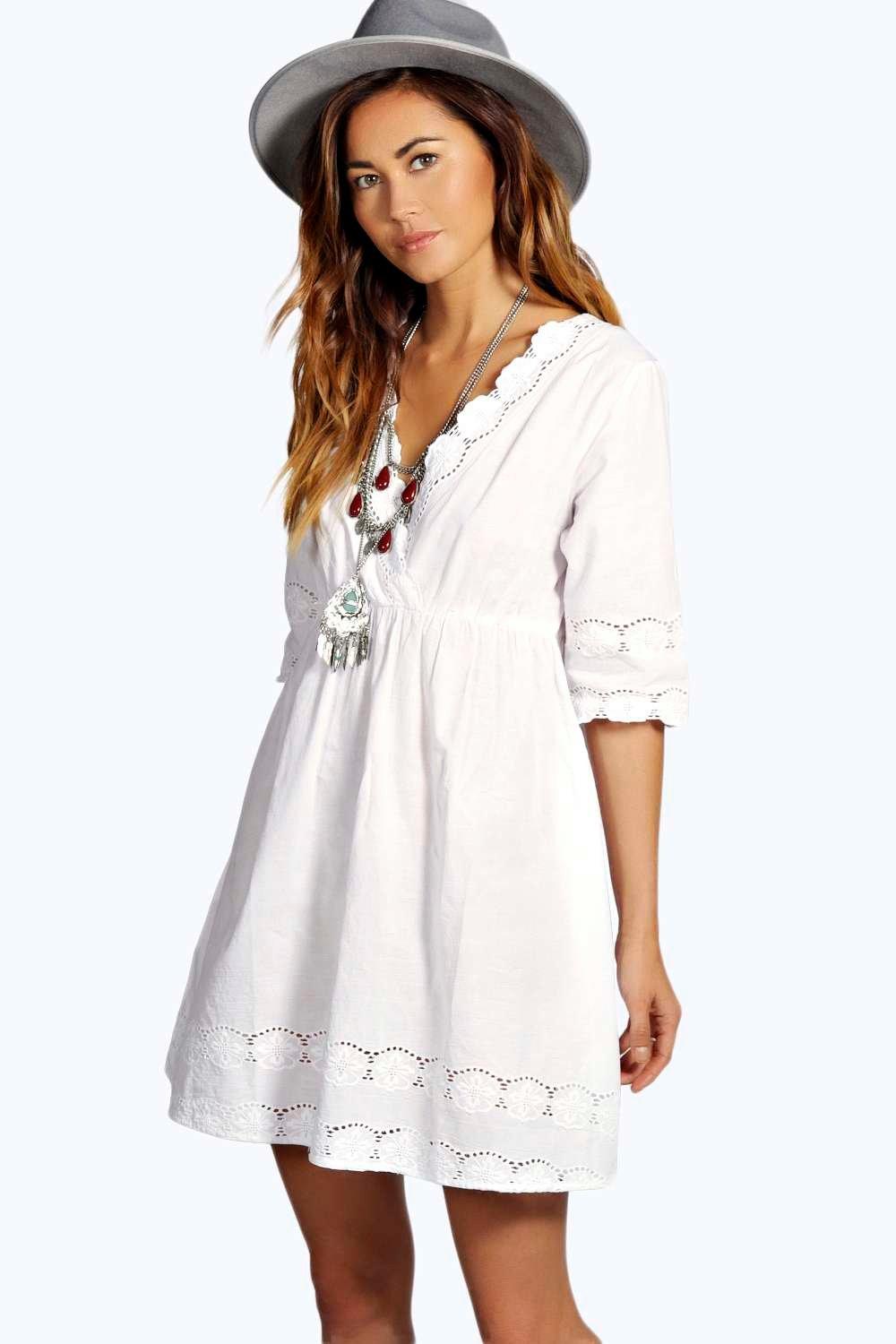 via boohoo
5. Keep it short. As much as I dislike my legs too much white would be overwhelming on someone as petite as moi. A good inch or two above the knee makes sure enough skin is showing to suggest a little height. I really like this boohoo dress as it ticks a number of boxes: it has sleeves; it has a lovely broderie anglaise detail that makes it interesting; and it can be worn as a coverup from the pool or beach straight to drinks at the bar (or in front of the TV watching cricket).
What do you think of white dresses? How would you do white?