Summer is rearing its humid head and while I love my Birkenstocks with a passion, there are times when they're not the most appropriate footwear choice (even if street style fashionistas indicate otherwise). After scoping Pinterest for outfit ideas to style my mom jeans it dawned on me that I didn't have a pair of pretty heeled sandals, preferably in tan or nude. The ideal pair would have a block heel, not too high, so that they can take me from park visits during the day with the kiddos to languid BBQ dinners at night (well, as languid as it can get with a toddler and an infant). Sandals are also tricky for me because I've got these terrible bunions which don't give me much pain but are so, so ugly that I try to cover them up where I can. Thin, strappy, delicate sandals? No such luck for me. They need to have fairly thick and sturdy straps to cover said bunions yet show enough skin to actually qualify as a sandal. Asking for much?
These Office heeled sandals actually look great – they're the right heel height, fairly good coverage around buniongate, and I'm a sucker for the studded detail. It's actually not a bad price too, at 60 quid. But that's just it – it's available in the UK. And while I'm sure they ship to Australia, after postage costs and currency conversion (thanks crappy AUD) I wouldn't be able to justify the price.
These Spurr sandals would look nice with a maxi dress, and they cover up the bunions nicely. Probably a bit flatter than what I had in mind, and they're not particularly tan or nude are they? Still, the style is something to keep in mind.
These Just Because gladiator sandals look good on screen but I'm not sure about the straps. Bunions, remember – they might stick out awkwardly and actually accentuate the damn things. And again, probably not enough of a heel for what I'm after. The colour is right though.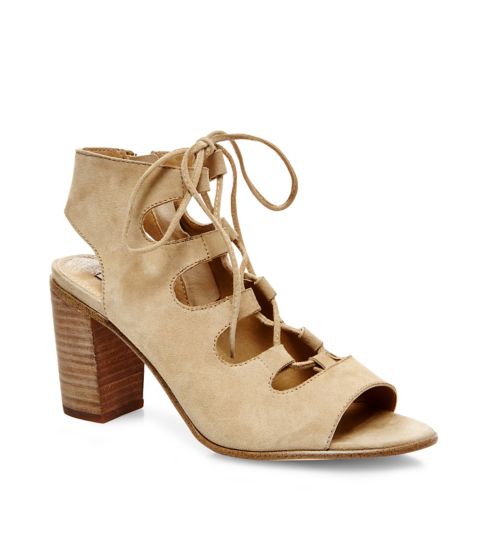 These Steven Madden shoes are more like booties but I like the lace up detail and colour. At 3″ the heel is a touch too high, but I'd still consider them.
Another pair of lace up shoes but with a heel height that's more to my liking. These Missguided ones from Asos tick all the boxes – tan, comfortable looking heel, covers the bunions, on trend with the lace up detail. The only thing I'm worried about is the fact that they're more of a bootie style – would they cut off my legs at an awkward spot and make them look shorter than they already are? Of course the only way to assess that is to try them on; oh they're only available online? Balls.
Another pair of bootie-like sandals by I Love Billy. Good colour, lace up detail is cute, a modest 6cm heel. Again it's one of those that I'd need to try on in real life to see that my legs aren't being chopped off at an unflattering spot. Also, at $149.95 I may as well just get those Office ones that I mentioned at the beginning of the post.
What sandals would you recommend? Any others that I've missed?